| | GPS WATCHES & SMARTPHONES | PRECISION RECEIVERS |
| --- | --- | --- |
| AUTOMATIC TRACK CONFIGURATION | √ | √ |
| CUSTOM TRACK CONFIGURATION | √ | √ |
| LAP & SEGMENT TIME | √ | √ |
| TOTAL LAP COUNT | √ | √ |
| TOTAL SESSION DURATION | √ | √ |
| TOTAL LAP DISTANCE | √ | √ |
| TOTAL SESSION DISTANCE | √ | √ |
| THEORETICAL FASTEST LAP | √ | √ |
| CONSISTENCY SCORE | √ | √ |
| AVERAGE SPEED | √ | √ |
| MINIMUM SPEED | | √ |
| TOP SPEED | | √ |
| HEART RATE | √ | √ (optional) |
| ACCELERATION | | √ |
| DECELERATION | | √ |
| LAP COMPARISON | | √ |
| SYNC ON POSITION | | √ |
| RECOMMENDATIONS | | √ |
| TARGET POTENTIAL | | √ |
| CORNER ANALYTICS | | √ |
| GATE DROP ANALYTICS | | √ |
| AIRTIME ANALYTICS | | √ |
| DATA SHARING | | √ |
| LEADERBOARDS | √ | √ |
| HOT LAP | | √ |
| LEARNING LAP | | √ |
| | SHOP WATCH | SHOP PRECISION |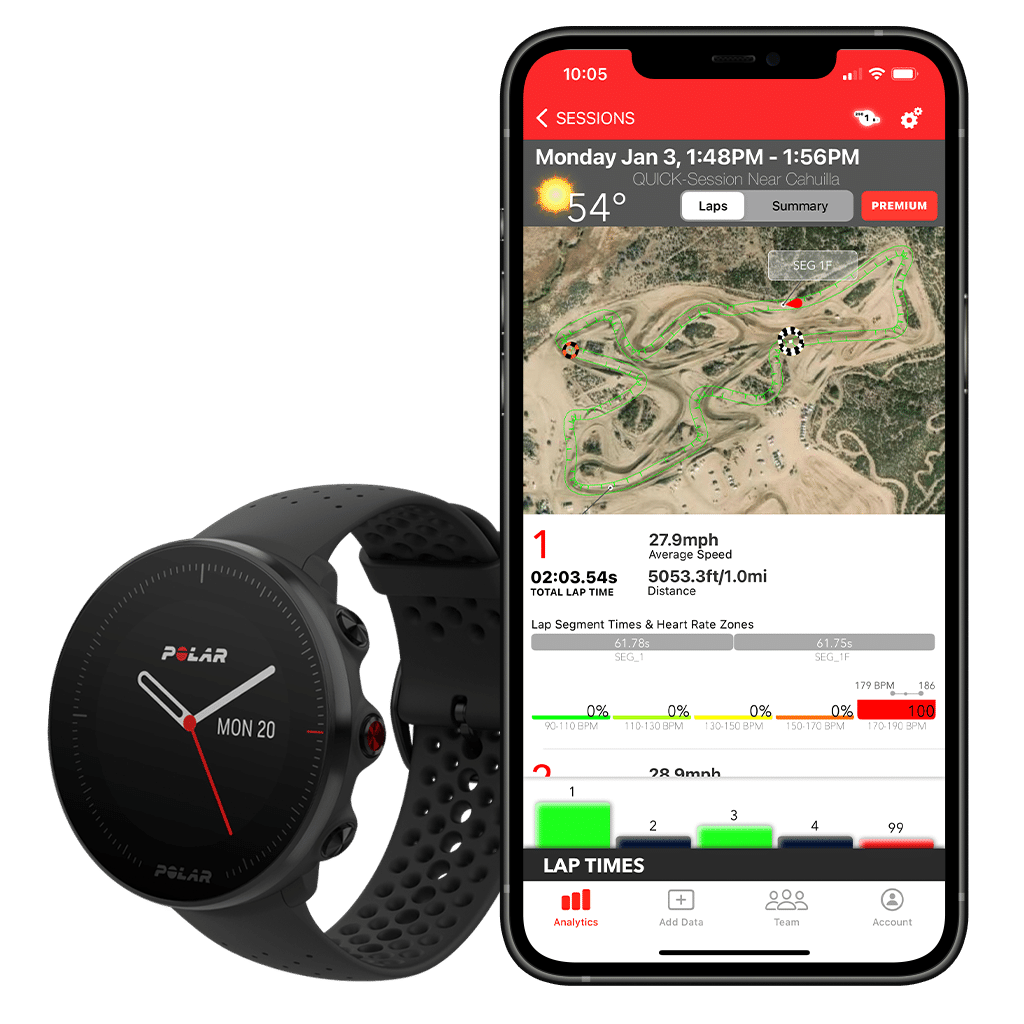 BEST GPS RECEIVER CHOICE FOR SPEED & CONVENIENCE
Speed, ease, and convenience, a GPS watch will have you tracking your lap times in just minutes.
EXPLORE THE APP
USE EQUIPMENT YOU MAY ALREADY HAVE
Do you currently train with a Polar, Garmin, or Apple GPS watch? If so, you already have all of the equipment you need to get started with LITPro.